SEASON 9 FASHION: THE WAIT IS *MOSTLY* OVER
posted by Nelly on Monday, March 12, 2012 | 5:02 PM

We know that you've all been waiting since the January 11th premiere of the ninth and final season of One Tree Hill for fashion, but we have an explanation for the tardiness.

It was awards season and since Cortni handles TreeHillStyle.com, she was up to her elbows in fashion reports on TheFashionCourt.com -- including reporting about the various red carpet appearances from the beautiful Sophia Bush. If you love OTH Style, you'll really love her site.

Check it out as she'll continue to report fashion on the cast of OTH!

Secondly, due to the fact that episode #1 of this season began filming in July 2011 and the final episode wrapped in November -- almost everything they wore is hard to find. Please bare with us because, despite the fact that we have some stuff up now, we're still looking everyday for more and more to bring you! You may even see items from the first few episodes pop up here in later weeks.

Keep in mind that we try to provide links of where you can still buy items, but should they be sold out -- we can't assist you any further. It happens... sadly.

Right now we've posted fashion for: Haley James Scott, Brooke Davis, Nathan Scott, Quinn James, Clay Evans, Julian Baker, Millie Huxtable, Skillz Taylor, Alex Dupre, Chase Adams, Chris Keller, Victoria Davis and the new Tree Hill resident -- Tara! A few new Set Props have also been added.

Stay tuned for more fashion from the season as well as a whole new batch of CAST items!!


MORE FROM SOPHIA BUSH AT NEW YORK FASHION WEEK!
posted by Cortni on Tuesday, September 13, 2011 | 11:00 PM

Fashion week isn't over yet!! Sophia Bush arrived back in NYC on Monday to kick off another marathon of shows she'd be attending. Among the spring 2012 runways presentations she enjoyed? Rebecca Minkoff and Tibi! Soph even found some time to attend the premiere of "I Don't Know How She Does It" starring Sarah Jessica Parker. She even met SJP at the after party which was a goal of hers! Click here to check out all of Sophia's latest style additions.

Also added: New items for Shantel VanSanten at NYFW and Alex Dupre's earrings from episode 8.21!

SOPHIA AND SHANTEL TAKE ON NEW YORK FASHION WEEK
posted by Cortni on Monday, September 11, 2011 | 11:52 AM

It's New York Fashion Week baby!! Ever the fashionistas, Sophia Bush and Shantel VanSanten have been working the Spring 2012 presentation circuit for the last several days by hopping from one runway show to the next to the next party -- and of course they took the night off to celebrate Fashion's Night Out this past Thursday! Sophia had to leave this past weekend to attend a wedding, but she'll be back later this week to see more.

Find out what both stylish ladies have been wearing while in town for Mercedes-Benz Fashion Week by clicking on their names above. If you can't find what you're looking for, try check back on previous pages -- they could've been reported earlier if either Shantel or Sophia have worn the item before.

UPDATE: #EDHARDYFRIDAYS + SEASON 9 STYLE
posted by Cortni on Saturday, September 3, 2011 | 10:05 PM

Already another update? I think so! It's a quick update, but there are new CAST items for Sophia Bush (2011), Shantel VanSanten (2011), and Rob Buckley! Nathan Scott's season 9 page is officially up along with a new top Millie Huxtable will be wearing in an upcoming episode.

IMPORTANT NOTE: I wanted to address this because I've received emails requesting items already posted on the site. I always link to the direct pages in which the newest items can be found - they may even be from past events/episodes. Remember to use the page links at the bottom of every section to navigate to other pages dedicated to the fashion of the cast member/character you're viewing. For example, I've just updated the sixth page of Sophia's 2011 section, but she still has currently up to seven pages from this year alone to enjoy!

THE WAIT IS OVER...IT'S TIME FOR 'ONE TREE HILL' FASHION!
posted by Cortni on Thursday, September 1, 2011 | 2:09 PM

It's been a long and very busy summer, and usually and the end of it all we have a new season of One Tree Hill to look forward to. Unfortunately One Tree Hill will not be returning this September, instead the show will return for it's ninth and final season in January with thirteen episodes. Chad Michael Murray will return for an episode so that means new clothes for Lucas Scott, hopefully Hilarie Burton will as well. I miss Peyton Sawyer's clothes...

On the brightside, I've already noticed some of the clothes the characters will be wearing in season nine via Twitter set pics and fan encounter photos! I'm sure there will be more in the near future including more cast appearances, so make sure you continue to visit this fall. Speaking of Twitter, if you're not already following us @TreeHillStyle - do. it. now. ;-)

To hold you over until then I have updated many, many sections filled-to-the-brim with fashion! Below you'll find a list of all the sections updated as well as new sections. Due to the schedule of filming many products were sold out by the time the episodes aired and definitely by the time we were able to find some. Have no fear, you can still find tons of them online including eBay. Happy shopping!

CAST | Added a new jacket seen on Sophia in 2010! // The 2011 sections for Bethany Joy Galeotti, Sophia Bush, Shantel VanSanten, Danneel Harris, Jana Kramer, and Robert Buckley have been updated!

CHARACTERS | Tons and tons of new items from season eight have been added for Nathan Scott, Haley James Scott, Brooke Davis, Julian Baker, Quinn James, Clay Evans, Alex Dupre, Marvin 'Mouth' McFadden, Antwon 'Skillz' Taylor, Chase Adams, Jamie Scott, Millicent Huxtable, Mia Catalano, and many recurring characters! A new top Haley James Scott wore in episode 6x20 "I Would For You" has also been added!

Season nine items are posted for Brooke Davis, Haley James Scott, Quinn James, Alex Dupre, and Jamie Scott.

In addition to the cast and character updates, the Set Props section has been updated.

MAGAZINES | Get the fashion details from Sophia Bush's cover shoot with Zooey Magazine along with her Coco Eco Magazine shoot with Daphne Zuniga and Sharon Lawrence.

Still to come... hair and make-up tutorials! Don't worry, we didn't forget about those!

Signing off for now, time to get back to updating OneTreeHillWeb.net!

xo Your Tree Hill fashionista --
Cortni

FASHION UPDATE: NEW FOR SOPHIA BUSH & NATHAN SCOTT
posted by Cortni on Wednesday, May 25, 2011 | 9:03 AM

Details for Sophia Bush's look at the P.S. ARTS event and Nathan Scott's sneakers from the season finale.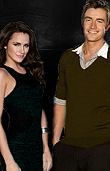 FASHION UPDATE: NEW BROOKE SEASON FINALE ITEMS!
posted by Cortni on Saturday, May 21, 2011 | 1:22 AM

A few new items for Haley James Scott, Brooke Davis, and Quinn James in the season finale were added.

FASHION UPDATE: CHARACTERS & SOPHIA BUSH
posted by Cortni on Friday, May 20, 2011 | 10:15 AM

Lots of details for Sophia Bush's look at the "Beauty Culture" exhibition opening last night have been added.

Updated Brooke Davis and Quinn James with new items.

FASHION UPDATE: SEASON FINALE FASHION!
posted by Cortni on Wednesday, May 18, 2011 | 9:02 AM

New clothing items from last night's season finale have been added for Haley James Scott, Brooke Davis, and Alex Dupre! Nathan Scott's was updated with new photo additions of him in his Converse and Diesel jacket.

FASHION UPDATE: HALEY JAMES SCOTT STYLE
posted by Cortni on Tuesday, May 17, 2011 | 2:00 PM

A new top for Haley James Scott has been added from episode #8.21 "Flightless Bird, American Mouth"! Don't forget to tune into the eighth season finale of "One Tree Hill" tonight only on the CW at 8/7c!

FASHION UPDATE: CHARACTER & CAST FASHION!
posted by Cortni on Monday, May 16, 2011 | 10:00 AM

Master season eight update for CHARACTERS: Nathan Scott, Brooke Davis, Quinn James, Clay Evans, and Alex Dupre! The Misc. Characters section has new additions for Jamie Scott and Lauren.

New ID's have also been added for CAST: Jana Kramer and Misc. Cast for Austin Nichols and Kelsey Chow!

NOTE: Make sure you check everything! At the bottom of almost every page shows you how to see more!